Letters of Note - Oscar Wilde
Obsessed with words, Wilde used them to berate but also sent love letters of utter tenderness. We wanted to start a new series on the great letter writers and the most important letters ever written.
Historical letters are the closest thing we shall ever have to personal memoirs of their writers and the times they lived in. The love letters of Oscar Wilde, one of the greatest writers of the Victorian era, are no exception. They are probably as close as we will ever come to the magic of hearing him in person. He never wrote an autobiography, but his letters reveal the man, often at his spontaneous, witty best.
Wilde adored words and playing with them became his trademark:
"I was working on the proof of one of my poems all the morning, and took out a comma. In the afternoon I put it back again."
Photograph taken in 1882 by Napoleon Sarony
Today's relationships are built around convenience.  We speak or text on phones and message via social media, with a real focus only on ourselves.  We have lost the art of sitting down and engaging with people for an extended period as well as the ability to commit thoughts and feelings to paper – which can be passed down through generations for posterity.  Luckily for us, Wilde left us a wide ranging body of handwritten correspondence on personalised stationery.  Each letter allowing us, his readers, an intimate glimpse into his thoughts and feelings, as well as the written style of period.
As you would expect, Wilde's letters are wonderfully fluent and entertaining – whether he's giving advice or writing profound love letters – his words are open and predictably, brilliant.  And even in adversity, his touches of humour, even for serious subjects, are never wanting.
What kind of writing paper were Oscar Wilde's letters written on?
Many of Wilde's letters were written at his home in Tite Street, Chelsea, London.  As was usual when corresponding in those days, he hand-wrote his thoughts on cream personalised writing paper.  This is still a popular classic preference for those seeking printed stationery today.
Oscar Wilde's personalised writing paper showing his address in Chelsea printed top right
The above letter was discovered in 2013 in a dusty box at the back of a wardrobe.  It is addressed to an unknown aspiring writer, "Mr Morgan", who has asked for Wilde's feedback on his manuscript.  Wilde is honest and direct with his advice, whilst offering deep insight into what it takes to become a successful writer.   He caveats his words by telling the Mr Morgan that he will need another job to rely on for money.
What was the typical writing format?
Another example of Wilde's letter writing – again written from his home address – is that written to Bernulf Clegg in 1890, who wrote to ask him to expand on a line in his preface to 'The Picture of Dorian Gray' stating the "All art is quite useless".  Wilde replied, in typical insightful and witty fashion:
Oscar Wilde's writing paper showing his response to Bernulf Clegg
Transcript below:
16, TITE STREET,
CHELSEA. S.W.
My Dear Sir
Art is useless because its aim is simply to create a mood.  It is not meant to instruct, or to influence action in any way.  It is superbly sterile, and the note of its pleasure is sterility. If the contemplation of a work of art is followed by activity of any kind, the work is either of a very second rate order, or the spectator has failed realise the complete artistic impression.
A work of art is useless as a flower is useless.  A flower blossoms for its own joy.  We gain a moment of joy by looking at it.  That is all that is to be said about our relations to flowers.  Of course man my sell the flower, and so make it useful to him, but this has nothing to do with the flower.  It is not part of its essence.  It is accidental.  It is a misuse.  All this is I fear very obscure.  But the subject is a long one.
Truly yours,
Oscar Wilde
As you can see, the format for correspondence writing hasn't really changed in the last hundred plus years.  There's a formal salutation (My dear Sir) and sign off (Truly yours), for those he doesn't know well and informal ones for close friends: "My dearest Bosie", "ever, Oscar".  It is interesting to note that Wilde rarely dated his letters.
Are there any glaring differences to the type of headed writing paper used then to today?
Wilde was clearly a passionate lover of written correspondence.  He wrote letters from wherever he was staying at the time.  We particularly love this printed letter head paper from the Albermarle Club, which is the earliest surviving love letter from Wilde to his lover Bosie Douglas.  It is undated, but thought to have been written in November 1892.  It is interesting to see that whilst the Club was well known in society circles during the Victorian age, its letter head did not include a printed address.  Its embossed club initials were all it used on its stationery – very different to printed business stationery used today, which always includes a full address.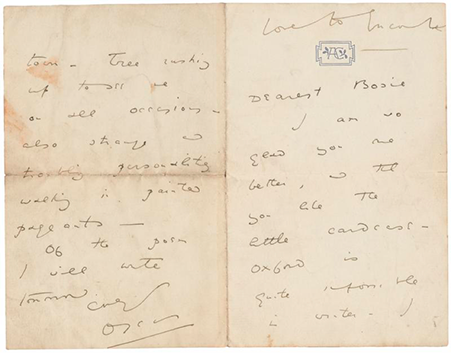 Oscar Wilde's love letter to Bosie Douglas
In the above love letter, Wilde is asking Bosie whether he likes the gift of a card case that he sent him.  He continues saying he is off to Paris and asking if Douglas is going to the Scilly Isles, as "I should awfully like to go away with you somewhere where it is hot and coloured;"  At the top of the first page Wilde wrote ,"Love to Enscombe" – this refers to Bosie's roommate at Oxford.
The love letter below – a rather more harrowing one than usual, as it was written to Bosie from Reading Jail – is the original manuscript for Wilde's 'De Profundis', Latin for 'From the Depths'.  It was written during a period when the head of the prison had changed and Wilde was allowed greater access to writing materials.  Although it is written in a more typical prison letter style, it is actually a love letter to Bosie.  And even though the stationery available to Wilde during his incarceration wasn't of the finest quality – you can see that he still adheres to the formal writing norms, with his address written in the top right hand corner and a customary salutation included.
Personalised Stationery was not up to much when in Prison.....

De Profundis is a dramatic monologue from Wilde to Douglas – a text filled with his usual clever, pithy statements, but touched too by the suffering he was undergoing in jail.  It was only published in full in 1962.
Oscar with the recipient of so many of his hand written letters, Bosie Douglas
Just imagine if Wilde had lived today.  Quite possibly we never would have enjoyed the astonishing love letters he left for posterity.  Handwriting is a considered activity.  It is difficult to do with distraction. It requires our attention.  Today we have so many diversions that writing letters often gets forgotten, especially love letters as we spend our time swiping left and right.  In the future, who will care about our texts or brief emails – nothing quite beats a beautifully thought out and well-crafted letter; something that you can see, touch and treasure; always.