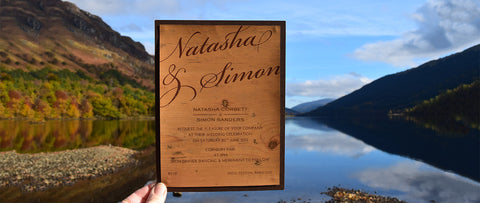 As the nights draw in, the seasonal shift therefore influences the trends we see emerging in the designs of our clients' wedding stationery.
With the cooler weather and the changing light, we consequently witness a move away from the blush pinks and sunshine brights favoured by summer brides to more subtle hues worthy of the chillier months.
Here are just a few of the trends for wedding stationery we're seeing as we move through autumn into winter.
1. Wonderful watercolour
Save the Date cards depicting floral motifs and watercolour prints are still in full bloom. Delicate petals in gentle tones encircling invitation borders. Additionally we are seeing text embellished with ivy or vines are big this season.
2. All that glitters…
Gold and rose gold are proving even more popular with clients looking for a touch of subtle sophistication. As metallics have been shown on international catwalks this year, we expect these to be huge in invitations!
3. Pantone colour of the year — Greenery.
Continuing its popularity from the summer wedding stationery, this bright and breezy shade also carries forward into the autumn. We're working on at least one wedding suite that picks up this stylish pantone colour.
4. Organic and wood grain textures.
Neutral and organic vibes are winning over ever our clients, particularly those who are choosing country weddings. We love the earthy tones of this nature-inspired theme.
5. Burnt orange.
Perhaps not surprisingly, given the glorious colours of the autumn, we've seen many requests for sepia tones and burnt umber influences coming through in invitation schemes. This also translates exceptionally well into autumnal bouquets with Jack-o-Lanterns and russet leaves woven between the flowers.
6. Ice blue and turquoise wedding stationery.
Perennially classic and sophisticated, we predict that many happy couples will opt for icy blue, particularly as we move into the winter months. This works exceptionally well with black for a contemporary vibe.
7. Calligraphy and handwriting.
Pretty penmanship, curling calligraphy and fanciful flourishes have surged forward in recent years, and this season is no exception. Calligraphers are creating new scripts that feel totally fresh. We commission only the best calligraphers for your hand-lettered invitations, envelopes, seating plans and beyond.
8. Marvellous monograms.
Custom monograms are taking on a whole new look, with elements that are meaningful to the bride and groom. No longer reserved for royalty, why not have a personal crest designed for your wedding stationery? This will be a gift for life as we can also reproduce it on all your personal stationery for the rest of your days.
9. Envelope liners.
We have never seen such high demand for beautifully finished envelope liners. Once forgotten, the lining is one of the first things your guests see so is the ideal canvas to paint a picture of the theme of your Big Day. These can be hand painted with any design you wish or tissue lined in matching tones for a classic and stylish finish. Watercolours are proving particularly winning!