Notebook
"A Floral Fantasia" of Greeting cards, inspired by the Cotswolds, hedgerows and country Lanes.
What inspires you?
I am inspired by details and patterns found in nature, mainly. I have been this way all my life; my mum said walking anywhere with me as a toddler took ages as I wanted to inspect every stone on the road, and take home every shell on the beach. I live on National Trust Common land and the village has beautiful wild flowers, free-roaming live stock, stunning views and ancient woodland. I don't have to go very far for inspiration.
______________
How to word a wedding invitation
Read Pemberly Fox's guide on the dos and don'ts when it comes to wording your wedding invitation.
______________
Arist Kristie Vargo, creator of 'la Margaux', chats to Pemberly Fox
What inspires you?
Inspiration comes from using all my senses. Colours, textures, music, books I've read or are reading, past and future travels, food, movies, poetry, and even a silly phrase has been known to spark an idea. My imagination is a fun place to play.
______________
Things to think about when choosing your wedding stationery

Choosing the style of your wedding stationery can be pretty overwhelming – particularly with the myriad of choice around these days. The invitation is your guest's first look at the style of your wedding so they'll get an idea of what sort of occasion you're planning – elegant and formal or casual chic. The most important thing to remember is that the 'Big Day' is all about you and what you, and your husband or wife to be, really want. Don't be swayed by the conflicting views of others.
______________
POOCHIE COFFEE STENCILS
You may have noticed from our Facebook and Instagram posts that we love dogs here at Pemberly Fox. We also love coffee so we decided to bring our two loves together in our quirky, new coffee stencils.
______________
PEMBERLY WEDDING SHOOT I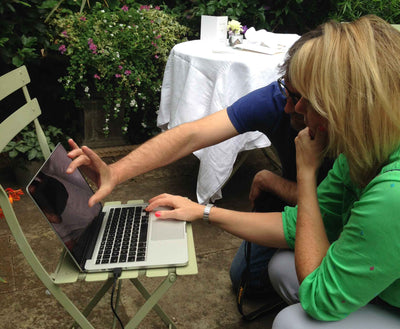 Last week we shot our fabulous new wedding stationery sets with a little help from our cheeky canine companions; Dougal the pug and his pal Iggy the border terrier puppy!
______________
LOCATIONS FOR A SMALL LUXURY WEDDING
Congratulations, you're engaged! Now that the champagne's been popped and you've shown your ring to the world, it's time to plan the details of you big day - and we're not just talking save the date cards, wedding stationery, and all of the other paraphenalia. We're talking wedding venues. If you're hunting for the perfect place to get hitched, never fret.

We've put together the UK's best locations for a small luxury wedding, carefully selected for the superior quality of their properties and exceptional levels of service.

From stately homes and castles, to the more relaxed setting of a country club or barn, your search for the dream place to say "I do" starts here. With each of the luxury wedding venues hand-picked by our experienced team here at Pemberly Fox, you can be sure you'll find only the best.