Notebook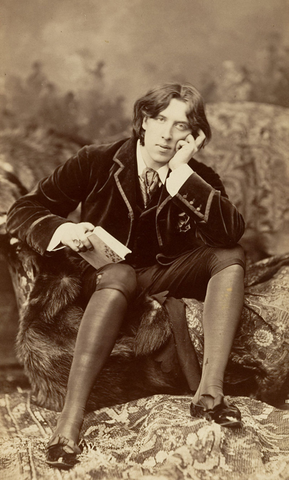 Obsessed with words, Wilde used them to berate but also sent love letters of utter tenderness. We wanted to start a new series on the great letter writers and the most important letters ever written. Historical letters are the closest thing we shall ever have to personal memoirs of their writers and the times they lived in. The love letters of Oscar Wilde, one of the greatest writers of the Victorian era, are no exception. They are probably as close as we will ever come to the magic of hearing him in person. He never wrote an autobiography, but his letters reveal the man, often at his spontaneous, witty best.
Wilde adored words and playing with them became his trademark: "I was working on the proof of one of my poems all the morning, and took out a comma. In the afternoon I put it back again."
Photograph taken in 1882 by Napoleon Sarony
______________
Quality stationery and The lost art of letter writing
Beautiful Quality Stationery from Pemberly Fox
Modern technology makes it easier than ever for us to communicate with each other on a global scale. In addition to phone calls, the devices most of us carry around on a daily basis allow us to send texts, emails, and access a wide range of social media platforms. We're spoilt for choice when it comes to ways of communicating with each other at the push of a button. Yet none of these modern methods are as meaningful as a handwritten letter on quality stationery, nor do they lend themselves to any care of ownership.
Writing letters to pen pals and loved ones on quality stationery was a fairly common practice even in living memory, but the advancement of technology has been so rapid and prevalent in recent years that many people now consider handwritten letters outdated or even redundant.
______________
Visiting card or Business card, that is the question....
What's the difference between a visiting card and a business card?
It's a good question and one which we are asked time and again, so here goes: A visiting card (sometimes called a calling card) differs from a business card in both purpose and design. The business card developed as a marketing tool, possibly from the concept of the traditional visiting card, by merchants and tradespeople to promote their businesses by providing prospective clients with the details of that business, such as the location of their premises, their trading name and in more recent times the many means by which they could be contacted other than by personal visit.
A history of the visiting card or as the French called it "Carte de visite" and what are visiting cards used for?
On the flip side to the business card; the visiting card evolved for very different reasons and predates the invention of the telephone and other modern means of communications with its origins firmly aligned with social interactions.  The clue to their purpose is very much in the name, for these cards were 'calling cards' or 'visiting cards' and were left when someone called or visited in person. The practice and etiquette surrounding the sending and receiving of cards grew over several centuries and whilst there are some social historians who credit the practice to 15th Century China yet others suggest a European origin. What is not questioned is that by the 17th Century the practice of leaving a card had become popular with European aristocracy and widespread with the English nobility.
The card came to serve a number of different functions such as signalling a desire to make someone's acquaintance, the furthering of established relationships, or for the conveyance of sympathy or congratulations as well as other functions besides, so that a strict set of rules grew up for the avoidance of awkward social situations. When calling unannounced the bearer generally waited in a carriage whilst their servant presented smart visiting card  belonging to his master. If they were delivering the card in person they would fold one corner of the card to indicate this, but, more often than not, this first call did not result in a face-to-face meeting and the card was simply left with a servant. It became the accepted practice that the bearer would make their way home in the expectation that the recipient would send their own card in reply several days later. This was the signal that their social overture was welcomed and that personal contact could ensue. If no card was forthcoming or the card was sent in a sealed envelope then this was a signal to maintain a social distance.
______________
Luxury Wedding Invitations - Pemberly Fox London
People often talk about luxury wedding invitations and stationery – but what does that really mean?  What does it look like?  How is it different from other wedding stationery?  For those with a passion for paper and a love of the finer things in life, here is a rough guide to what luxury stationery actually is.
How thick should wedding invitation cards be?
Truly luxurious stationery feels substantial. It is both weighty and tactile.  In the UK, card weight is measured in GSM (Grams per Square Metre). The higher the GSM, the heavier the paper.  Wedding stationery will be printed on card weighted from (roughly) between 210gsm to 600gsm - in short from thin card, to one that will stand under its own weight.
Hand bowed luxury wedding invitations engraved onto 700gsm thick card
______________
The Importance of Personalised Stationery in the digital world
The Importance Of Personalised Stationery In The Digital World
In today's continually-evolving world of social media and hyper connectivity, messages delivered on traditional personalised stationery can make a powerful statement. They symbolise a return to the personal and provide us with the opportunity to highlight the most important people or events in our lives with something a little out of the ordinary. In many ways, the ubiquity of digital communication technology doesn't diminish more traditional methods of correspondence, it gives them greater significance. In the modern climate, they are rarer, and therefore far more precious.
Let's take a look at exactly what makes stationery important and distinctive in the digital world…
______________